Hello again valued customers and friends,
Please see below for ideas and tips on distance learning in these unusual circumstances. Also some lighter moments to get us through these trying times.
We continue to work away at our web page fixing an update that did not go perfectly. We are working backwards and have currently reached year 1998 (volume 6) and are proceeding to 1992 (volume 1 where we began). Just for fun, titles from 1998 include; A Longford Legend – Sheldon, Juno Beach – Edmondson, March of the Kangaroos – Huckeby. Remember those? I know many have performed them with your students, and they continue to be played today. To see these titles and many more visit our homepage.
As said previously, I'm here, available, and can help anytime. Contrary to what my dog wants I'm not walking him all the time so I'm at my computer, answering emails, the phone and staying busy (mostly by writing these emails). My cat continues to be annoyed with me but honestly Fluffy I need to be in your house all the time right now, sorry to invade your space so much, get used to it! If you wish to place an order, that can be done. Most publishers are open and working (either from home) or with a skeletal staff, but are operating and shipping, albeit sometimes with slight delays. And we have a tremendous amount of music in stock. All the titles on our page we try to keep in stock, and those can be provided promptly without ordering from the publisher, not that there is a big rush right now. Regardless, much is available for concert band, jazz band and choir. And when everyone does get together again to make music, whenever that glorious time will come (sooner I hope), it will be unbelievable!
Once again, sharing and helping is what's important. Working together, irrespective of limiting borders. Music itself is the essence of togetherness. Recognizing we all have much in common, sharing in a greater community, and not feeling alone. My notion is to make this precarious landscape smoother. I hope the below helps…
A Special Message to Students from Dr. Tim Lautzenheiser (co-writer of Essential Elements, dynamic author and speaker, VP of Ed with Conn-Selmer) a video to students of bands, orchestras and choirs (and their directors) that shares Tim's inspiring thoughts during COVID-19 https://www.youtube.com/watch?v=4MwWVkBBREw
Free Content for Remote Learning for Band, Choir, Orchestra and Elementary music from our friends at Alfred Publishinghttps://www.alfred.com/free-remote-learning/
Excellence in Chamber Music – Learn new music and play as solo, duet or small ensemble. Looking for a way to encourage music making among your students in the same household? Flexibly scored Excellence in Chamber Music is the perfect fit! Suitable for any combination of instruments, each volume includes 15 favorite songs with 3 parts to choose from: A (melody); B (harmony); and C (bass). By mixing and matching instruments and parts each arrangement can be performed in an unlimited number of ways from solo and duet, to small ensemble and full concert band. The combinations for chamber music practice and performance are endless! Books are $8.95 (My entire family played from this, it's fun!)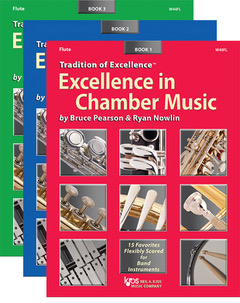 Free Online Theory Program: Please see the below from Adrian Bourgeois regarding his online theory program…
"For people looking for an easy music theory access point for your students, I have redeveloped and reintroduced the online theory course I developed 13 years ago, alongside the Canadian Band Association. The theory program allows for students to practice their theory knowledge and expand on it as they go. Feel free to access and use the program with your students. A second level is currently in the works as well. To access the site and use it, click on the link below. If it asks you to log in, log in as guest. Once again this access is FREE. I just want to share with band teachers and students. The free version will not change and will be available until further notice. In the fall, a subscription based version will also be available to teachers that will include marks book, formal assessments (self-marking), and other options. Watch for more information on that as time goes on."https://onlinetheory.moodlecloud.com/
Adrian Bourgeois BourgMusic
New Video resources from the Saskatchewan Band Association. This includes a video by Dean McNeil on Ways to Practise…Quietly, something that can help students playing at home at this time. Also Developing Motivation which has much content that crosses over to any student. To access a further series of videos at the beginner and intermediate level a free and easy access is provided. There are videos for all instruments and more are being added. The remarkable A Hope for the Future video is also here. www.saskband.org
Drum Head Maker Turns Drumheads into Medical Face Shields…D'Addario our provider of Rico and Rico Royal reeds, D'Addario guitar strings and Evansdrum heads turns drumheads into medical face shields. "…the engineering team devised a way to fabricate protective face shields using the clear film from the company's popular Evans G2 drumheads. After working around the clock for three days, the team had its first prototype (shown below). The company plans to be in production by April 27 or earlier and to ramp up as quickly as possible to a capacity of 100,000 face shields per week. Management intends to manufacture the shields as long as they're needed in New York and anywhere around the globe."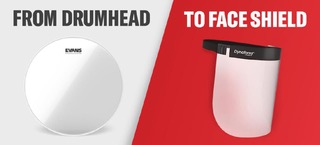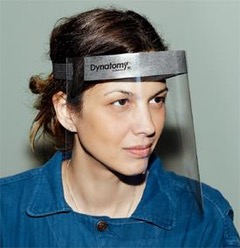 Thank you to Randall Standridge and Samuel Hazo for the below lighter moments;From Randall Standridge facebook – How Composers Wash Their Hands.https://www.youtube.com/watch?v=HbTze87-RcQAlso from Randall – What It's Like to Work From Homehttps://www.youtube.com/watch?v=0L-LzFCJQtc&feature=youtu.be&fbclid=IwAR0zjC3gcdnNN_9jAfoLic_ng2aSnP6in6RKqQMZqq-KUdgwFIpZkb4F_Z8
From Samuel Hazo facebook. Sam says "This is my former student! I can take zero credit for his abilities. He was in my 5th/6th grade band classes and taught me way more than I taught him!" Quarantine or Quarantune? enjoy the video here https://www.wbgo.org/post/quarantine-or-quarantune-benny-benack-iii-shares-new-spoof-put-mask-your-face?fbclid=IwAR2RPx2PkFiARTVTKKjRi_cQN-RkUFbEIHbY3lz0tYZAD7j20X3CYyqhodI#stream/0And also this note from Sam Hazo. A Covid19 Message From Your Composer Buddy. Hi, friends! If you run out of hand sanitizer, that 70% Proponol-based mouthpiece spray in your instrument case works just the same. Even gives your hands a "minty waft!" And that advice is free.😁 Stay well! We'll call it "Band Sanitizer."
Some humour (why not)…
Do not call the police about suspicious people in your neighbourhood, those are your neighbours without makeup and shaving.
Tempted to go for a drive because gas is cheap, the weather is warmer, and the snow is gone? Well your battery is likely dead and your winter tires are still on and probably low on air. The tire shop can't change the tires till August. By then you might as well keep them on, winters coming.
What your students really think during your zoom meeting "oh so thats where you live!"
Tomorrow is the day to take out garbage and recycling…so excited I can't decide what to wear!
We can all learn from Sasqatch, a social distancing champion.
Home schooling update: My son just said "I hope I don't have the same teacher next year."
With extra time on hand I went through my wardrobe and found something from 20 years ago and it fit perfectly! It was a scarf but still pretty proud!
The 6-49 lottery this week has grown to a 24 pack of toilet paper. Ticket sales are up.
For Free: 2020 Personal Planner. Hardly used, has some eraser marks.
For fun, after many weeks of self isolation post a picture of your moustache, guys; do this too.
While standing in line at the bank I coughed. It's the most attention they've given me in 20 years.
Thank you for what you do. Amongst other things, for learning new (and hopefully provisional) approaches to keep students engaged in music.
I'll keep saying it, hats off to our health care and front line workers everywhere. Unsung truckers, you are the cavalry of the nation bringing food, meds and supplies where its needed.
To see our previous emails that included many resources, some of which have been updated; feel free to scroll down our Newsletter.
Thank you for reading. Stay safe.